By |
August 19, 2019
Earlier this summer Myles Pocta embarked on the Camino de Santiago, also known as the "Way of Saint James" (The Way). The Way is a network of pilgrimages that lead to the shrine of the apostle Saint James in the cathedral of Santiago de Compostela. In early June and beginning in St. Jean pied de Port, France, Myles along with longtime colleague and brother in Christ, Jim Brown, started the 500-mile trek to Compostela.
The journey kicked off with a challenging, majestic climb over the Pyrenees Mountains, followed by a series of circuitous trails through the countryside and villages, and tours of the wonderful cities and magnificent churches and cathedrals of Spain, all of which left them in complete and total awe of this beautiful country.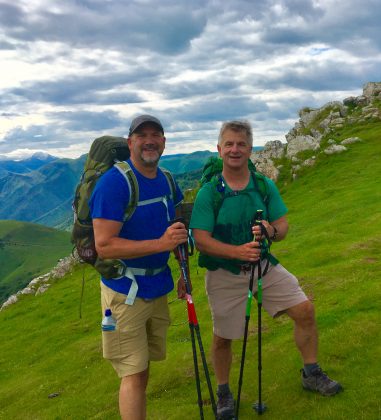 Key to their spiritual moments were daily prayer and special intentions, celebrating daily mass, and breaking bread with fellow pilgrims. They quickly learned about the importance of the afternoon "siesta", which ironically led to an even greater feast – a 4th of July celebration in Arzua, Spain.
In early July and 500 miles later, Myles and Jim Brown arrived in Compostela, thus completing a pilgrimage and spiritual journey established over a century ago. It truly was a blessing, a pilgrimage, and a "buen camino"!
Check out a video of their journey: