How the Greatest Gift became It's A Wonderful Life
By |
December 23, 2022
As we approach Christmas, many of us have terrific memories – family traditions, gatherings, meals, and gifts!  We all have great memories of sharing and opening gifts around the Christmas tree.
Yes, gift giving with loved ones, family, friends, and co-workers remains a time-honored American tradition. However, I'll bet you have a childhood story or memory that far, far exceeds any gift under the tree – even today.
Now, imagine the experience and story, The Greatest Gift, written in 1938 by American author Philip Van Doren Stern. 

It's a Christmas story about George Pratt, a small-town banker who is in dire financial straits and laments over society and life. Life is so hopeless that George wishes he'd never had been born and contemplates suicide by jumping off an iron bridge.
Before his fatal leap, George meets a stranger who tries to convince him otherwise.  But George is adamant, and his wish is granted. The stranger shows George a world–his wife, family, and workers–without him! George awakens, has an epiphany, and realizes his poor decision.
George quickly returns to the bridge and begs the stranger to return his life.  George's wish is granted; returns home, hugs his wife, and tells her he loves her.
You see, George discovered the greatest gift- the gift of life.
It is an amazing story but did you know author Philip Van Doren Stern was unable to find a company to publish The Greatest Gift.  Five years later, in 1943, Stern decided to publish his story in a small pamphlet which he sent along with 200 Christmas cards.
Incredibly, one of the 200 cards found its way into the hands of movie director Frank Capra and actor Jimmy Stewart. Capra and Stewart loved the story that inspired the 1946 movie classic, "It's a Wonderful Life".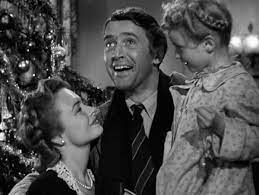 The epic film features George Bailey, a smalltown banker who is depressed over his financial woes and life. George feels he is worth more dead than alive and contemplates suicide by jumping off a bridge on Christmas eve.  Before leaping, George suddenly notices a man who is drowning. He rescues the man who later reveals himself as George's guardian angel – Clarence.
George remains bitter and wishes he'd never been born. Clarence shows George what the town would have been like without him. Through Clarence's heavenly advice, George finally awakens from his dark life and realizes the Wonderful Life was not about his dreams, money or possessions – but finding true happiness – in his love for God, family, and fellow man.
In the story, The Greatest Gift, George Pratt indeed discovers the greatest gift – the gift of life – which inspired the film and another George – George Bailey – to discover "It's a Wonderful Life".
This Christmas, may we all be inspired by and receive The Greatest Gift and discover It's a Wonderful Life !