By |
October 28, 2019
As a locally-owned small business, MAP Environmental Inc. (MAP) recognizes the importance of being active in local events throughout the community. While MAP's company mission may be to support sustainable development and environmental stewardship in Hampton Roads, we also pride ourselves in supporting efforts that honor and showcase those who sacrifice in service of our country's military.
On September 20th, MAP was privileged to attend the 60th annual Naval Air Station (NAS) Oceana Airshow in Virginia Beach as guests of the Virginia Gentlemen Foundation, which supports families affected by physical and mental disabilities. For the third consecutive year, company president Myles Pocta attended the show with his son Andrew Pocta (MAP Environmental Consultant) and grandson Andrew Joseph, who was particularly excited to experience the flying prowess of the U.S. Air Force Thunderbirds (and meet his favorite Star Wars characters)!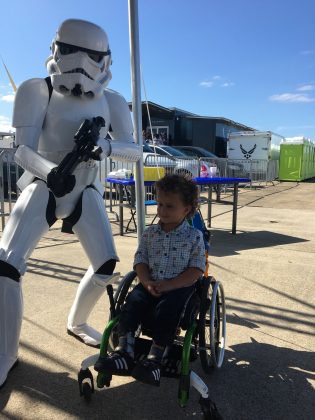 The annual Oceana Airshow is just one of the many ways the presence of the U.S. military enhances our community. Besides bolstering our economy- MAP has enjoyed the opportunity to serve the Department of Defense (DOD) on local projects at Camp Pendleton, Naval Station Norfolk, and Little Creek Fort Story- the U.S. military also provides Hampton Roads residents with a strong sense of national allegiance. MAP is proud to share our region with our veterans and active service members and is excited to continue serving DOD for many years to come.