Project Highlight – Hampton Roads Crossing, Suffolk, Virginia
By |
June 30, 2023
One of the most fulfilling aspects of environmental consulting is the opportunity to work on projects that improve the Hampton Roads region. So many behind-the-scenes activities are required to bring a project from vision to completion, sometimes taking several years or even a decade, before shovels even break groundns!
MAP Environmental Inc. has been working with The Terry Peterson Companies on the Hampton Roads Crossing project since the early 2000s, from both early environmental feasibility studies, wetlands and natural resources surveys, to securing necessary authorization for construction. MAP is excited to witness the progress of such an important project for residents, consumers and even students as it also incorporates the Old Dominion University – Virginia Modeling, Analysis and Simulation Center!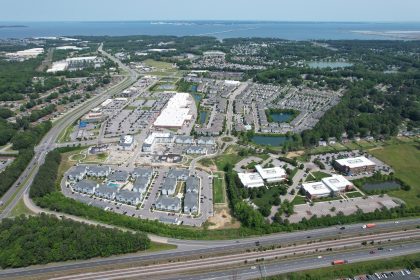 As a way to celebrate this successful endeavor, MAP was able to capture this stunning aerial of the Hampton Roads Crossing project, including a beautiful view of the Nansemond River!