By |
March 22, 2019
As we welcome Spring 2019, it's very gratifying and encouraging to see so many important and promising projects in Hampton Roads. 2019 has already brought the long-awaited completion of the new Lesner Bridge, Virginia Beach's first signature bridge; continued growth and development of Hampton Roads Crossing in Suffolk; and the beginnings of various transportation infrastructure improvement projects throughout Hampton Roads!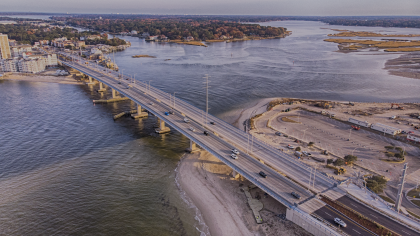 As these and other projects move forward, we are encouraged and optimistic about our area's growth and are excited to be contributing to regionally-beneficial endeavors throughout Hampton Roads. This spring, we will continue supporting the Department of Defense with their facility and training improvement efforts at Naval Air Station Norfolk and Joint Expeditionary Base Little Creek-Fort Story. Additionally, we will continue our work with the cities of Suffolk, Chesapeake, and Virginia Beach as they revitalize our roadways to support regional growth and with Dominion Energy as they focus on continuing to reliably power Hampton Roads.
At MAP Environmental Inc., we are poised to provide environmental services, including timely regulatory consultation on the future growth and development of Hampton Roads. Whether its energy, water resources, land development, utilities, or transportation, we are ready to furnish environmental services and solutions.
We thank all our valued clients and friends and look forward continuing to serve the Hampton Roads Community this season and for many to follow!